Frustrated that Microsoft Dynamics NAV contains the data needed for 1099 processing, but lacks the capabilities to prepare and print the necessary forms?
The 1099 Toolkit, a Dynamics NAV add-in, is the only tool available that allows you to prepare and print the 1099 forms right from Dynamics NAV and without the time-consuming manual preparation. Its new capabilities also make transitioning to the new 1099 NEC form quick and simple. 
The toolkit is a must for any organization that has a number of 1099's to process during the hectic month of January. 
Save time and streamline your process with simple reports and tools, allowing you to view and edit key 1099 data in one spot, then quickly print and upload your 1099 documents.
Ensure accurate reporting through issues reports and dashboards that allow you to review and correct federal IDs, 1099 codes, and reportable invoice amounts.
Address new 1099 reporting requirements with capabilities to quickly update expired codes and accurately print the new forms.
The 1099 Toolkit enables users to review and correct vendor Federal ID information
Verify vendors have a Federal ID number (EIN/SS)

Missing IDs result in no 1099

Check for duplicate IDs which indicate multiple vendor cards for same vendor.

Results in multiple 1099s for a single vendor

Verify that Federal ID numbers are 9 characters and haven't been mis-entered

A mis-keyed ID number will not be recognized when printing 1099s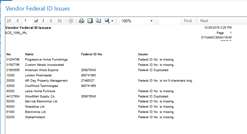 Review All Payments to vendors have proper 1099 coding.
Missing 1099 codes on posted vendor invoices mean amounts will not be included when 1099s are printed.
Report partial invoice amounts on a 1099. Only labor is reportable on a 1099 MISC-07
Adjust reportable amounts if non-reportable amounts are combined with reportable amounts on an invoice.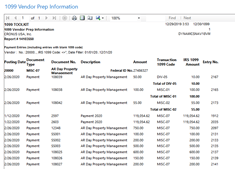 Review What Will be Printed on the 1099 Before Printing
View total amounts by vendor, by code.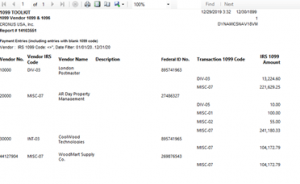 Print or Upload 1099s
FIRE portal file creation and uploading included

Uploading to the IRS FIRE portal is mandatory if submitting more than 250 1099s

If submitting fewer than 250 1099s, 1099s may be printed or uploaded.

Current annual 1099 print formats are included with updated MISC, INT, and DIV reports

Includes a 1096 Summary Report - required if mailing 1099s to the IRS

Not included in native Dynamics NAV, but required by the IRS.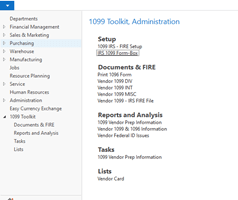 NEW in 1099 Toolkit for 2022!!!
1099 Toolkit properly applies:
Partial invoice payments to 1099 coded invoices – only the payment amount is reported.
Payments that cover multiple 1099 coded invoices.
Payments against invoices that are only partially reportable.
Voided payments.
1099 Vendor Worksheet has been redesigned to display:
Original Invoice Amount
Payment Amount
IRS Coded Amount – The amount that will appear on the 1099
KEY CAPABILITIES
Review all reportable 1099 information in one view and easily make corrections right on the spot
Preview all 1099 information by vendor before printing
Print and upload 1099s to the FIRE portal from Dynamics NAV
Print in 1096s - not in Dynamics NAV
New features make transitioning to and managing new 1099 NEC reporting requirements simple and easy